Golnar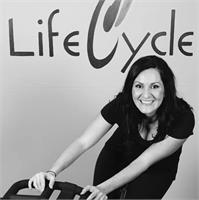 Founder/Instructor: Golnar Sharafsaleh has over 11 years of experience in the fitness industry and holds several national certifications. Her passion for indoor cycling started over 10 years ago. After dealing with several medical issues and undergoing numerous surgeries over the years, she has always used indoor cycling to recover and rebuild her strength. Her passion is to train and work with cancer survivors. She believes that the impossible is always possible and sometimes you just need to borrow a little strength from those around you. Her vision for LIfeCycle is to build a community where everyone feels empowered and can find a purpose in the moment. She believes if you can find purpose in every moment, you will eventually find the "why" in the fight to survive.
Golnar instructs the following:
It's a Life Cycle mash up! Thirty minutes on the bike, 30 minutes of strength training. It's the perfect combination of cardio and functional training. Get ready to crank it into high gear! All levels are welcome to enjoy the challenge.




Ideal for all fitness levels. Full-body exercises can be modified to suit your needs and class will focus more on working at your own pace as you concentrate on perfecting your form.




Hop on one of our state of the art RealRyder bikes and get lost in the work. Hills, turns, sprints, bursts… who knows where you'll go on your ryde! All levels are welcome to enjoy the journey.