Jacque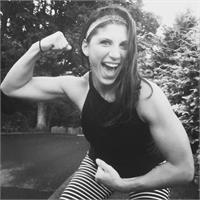 Jacque Sanchez has been a fitness enthusiast for most of her adult life. She has trained for long distance runs, completing multiple half marathons and one full marathon. In addition to running, Jacque has competed in CrossFit competitions as well as multiple Spartan and Tough Mudder races. Most recently Jacque has become an Online Wellness Coach and Insanity Live Instructor. Jacque battled weight issues much of her childhood. She lost 85lbs eating a clean, healthy diet and incorporating exercise into her daily life. The lifestyle change has had such a positive impact on so many aspects of her life that she became passionate about helping others transform their lives through diet and exercise too. Jacque believes we all have the power within us to rise above any situation or struggle and transform into the brightest, strongest, version of ourselves possible!
Jacque instructs the following:
INSANITY® LIVE is challenging, group-focused athletic training, cardio conditioning, and total-body strength drills, designed for people of all levels. The moves are easy to follow—but the workout WILL challenge you and change you. Show up ready to give it your all, just when you feel like your body is about to max out on certain movements, you're saved by the bell and it's time for the next block of moves. Plus, all moves will always be modified so you can work up to your own best level.