Raema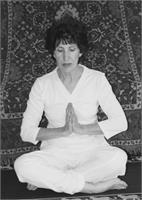 RAEMA SALMON is a certified Yoga and Meditation Instructor and has been teaching Yoga and Meditation as well as prenatal and postnatal yoga for 18 years. Raema believes that the practice of Yoga and Meditation is a superb doorway to deep physical and mental healing, relaxation, strength, flexibility and stamina of body and mind, and has studied Yoga Therapy and Conscious Communication to assist the healing of body, mind and spirit.

Raema is also a Natural Health and Wellness coach and teaches Nutritional education to businesses, organizations and groups - including mom's groups - to help them understand that if they learn to take care of themselves, they will have more energy and creativity to bring to the workplace, family and their lives.
Raema is currently not instructing any classes.