Maria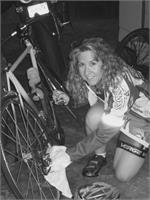 Instructor Maria Vlasak has taught indoor cycling for almost 20 years and managed a RealRyder studio for 5 of them. She is a three-time Team USA member and brought home a bronze medal from the ITU Duathlon World Championships. Closer to home, Maria was a Category 3 women's road racer and won the Tour de Greenwich in 2005. She is also an above-average bowler, an excellent speller, and can recite all 50 states in alphabetical order. Maria teaches a true cycling class: no videos, no hand weights, no push-ups, no jumps. So, whether you're an experienced bike racer or a new rider, if you want an intense, efficient, and safe workout, Maria's class is for you.
Maria instructs the following:
Hop on one of our state of the art RealRyder bikes and get lost in the work. Hills, turns, sprints, bursts… who knows where you'll go on your ryde! All levels are welcome to enjoy the journey.